My rules, my information.
Please do not call me my nickname! call me by name, I remind you that my name is Nastya! Bra size 95J My chest circumference is 125 cm, are your arms large enough to hug me and my chest? *) The width of my nipple is 8 cm. Do NOT ask about milk, there is NO milk. I do not smoke! I do not dance! I don't eat or drink on camera, even in private! Do not deep throat! No boyfriend, no husband, no children. I do not like it when they call me a doll or a mom!!! A few rules of my room: don't hurt me, don't be rude to me, always tell the truth. some of my favorite tips: (19,29,39,333) I don't like tip 1 and 2 Ambi control in private 10 minutes (link) 69 tokens Lush control in private 10 minutes (link) 79 tokens Domi control in private 10 minutes (link) 91 tokens Oil in private 50 tokens are paid additionally. If you need to oil not only boobs, but something else then 100 tokins.
In addition to reading
Private recording costs 200-350 tokens additionally, depending on what happens in private I do not change the price or the duration of the private! Yes, I wear contact lenses. No, they are not colored. it's just to see better. This is my eye color. Breast binding only in private, additional 150 tokens are paid. At the moment I will wear glasses, for a while, I need to undergo eye treatment. I have a fitness ball. if you want, you and I can try to use it in private. Please do not start a topic about the relationship between Ukraine and Russia! I don't like talking about it. It's not pleasant. please respect this!
Supplement to my schedule
My schedule may be slightly different, a couple of + or - hours. If I am not at 12 noon, then I have a day off. Day off I usually 1 day. I also have about 5 - 10 days a month when I do weekends.
Stockings
I really like wearing stockings, I hope you will like it too! I have stockings in the following colors: black, white, red, brown. also mesh: black, red, white and brown.
Additions)
In private, I do: everything that is on the menu, and almost all your wishes, write whatever you want! I don't like anal so I don't do it. I MADLY love the control of domi inside my pussy, tell me to put domi in my pussy and you will see how cool it is!!. Control any 2 toys 10 minutes 299 tokens. Control any 2 toys in private 10 minutes 149. Click on the heart to follow me and be notified when I'm online! My height is 162 Weight 95-97 kg Foot size 38-39 I have 5 tattoos on my body. с2с invite, i love it! Do not bargain with me please! we are not on the market) each model has its own prices, please respect me! Any request is made at the price in the menu, and not at 1 token, etc!!! If I do not remember you, then you do not come to me often or did not give a reason to remember you!
My public tip menu
Ahegao 10 seconds - 11 Open mouth for 10 seconds - 14 WOW If you like or sexy! - 15 Wear small heels 3 minutes - 18 PM - 20 Stand up - 21 Flash BOOBS for 10 seconds - 23 Spank ASS - 27 Show belly 10 seconds - 28 Doggy Style FACE - 31 Doggy Style ASS - 32 Show feet - 36 Stockings color of your choice - 38 I like your BOOBS! - 44 Glasses on/off 10 Seconds - 45 Flash PUSSY 10 seconds - 47 Take off panties for 3 minutes - 49 Show BOOBS\take off the top - 53 I love your BOOBS! - 55 Tip for a dream - 59 Suck nipples - 63 I love your BOOBS!! - 66 Wear NEW high heels 3 minutes! - 69 Masturbation - 72 Wear nipple clamps for 3 minutes - 75 I'm crazy about your BOOBS!!! - 77 Naked (5 minutes) - 79 Spank TITS - 81 Ice on the nipples - 85 Suck dildo - 87 Throw a dart into a balloon! - 93 Finger in the ASS - 97 Fuck TITS - 101 Butt plug (5 minutes) -103 Bounce BOOBS - 119 Ambi control 10 minutes (link) - 125 Oil on TITS for 3 minutes - 131 Play with belly for 3 minutes - 153
continuation of the menu
Dildo in PUSSY - 99159 Lush control 10 minutes (link) - 153 Domi control 10 minutes (link) - 173 Oily titty massage Footjob - 199 Control D and L 10 min (link) - 299 Take a day off - 5000 (specify that you are giving me a day off)
Only for Fan Club subscribers
Videos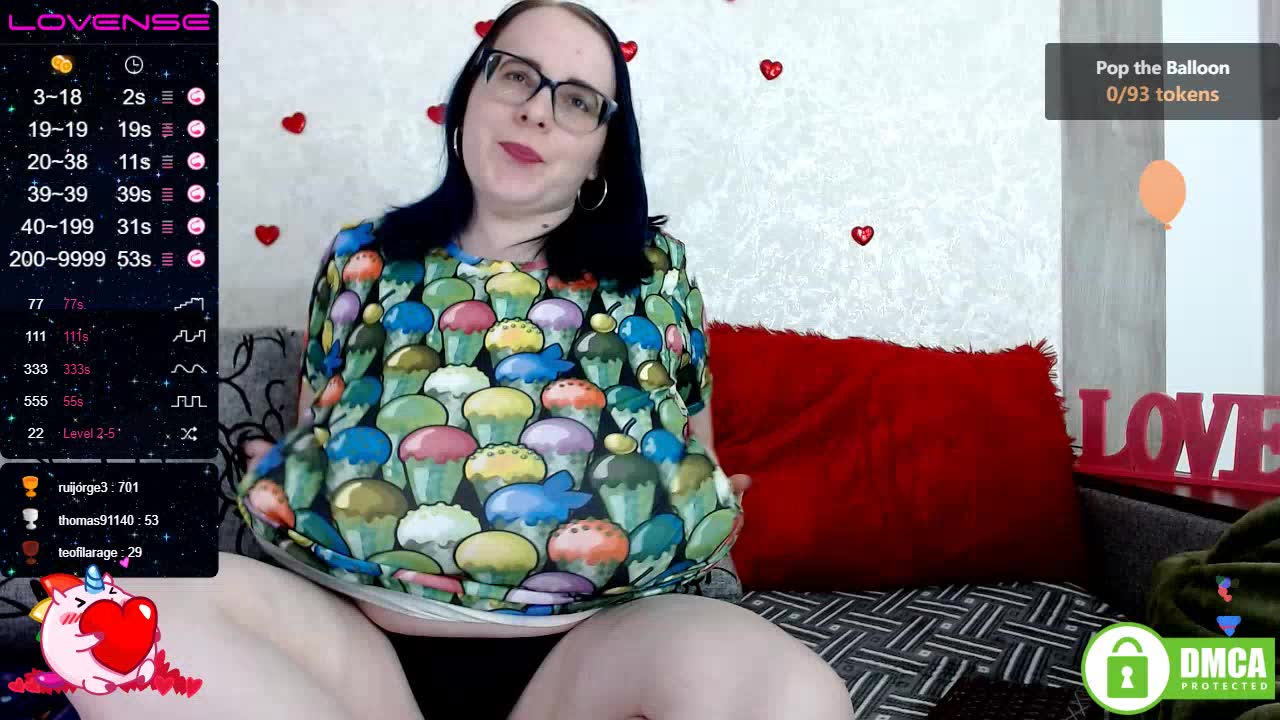 34:40
My hottest private show, enjoy))